SPECIFICATIONS
Stop'Air improves airtight seals in residential homes in order to achieve BBC-Effinergie certification as part of French RT 2012 thermal regulations.
Airless spray-on application on peripheral walls.
Odourless.
Clean all equipment with water.
ADMITTED SURFACES
Peripheral walls. Surfaces must be clean, dry, sound, and contain between 6 and 16% humidity.
ADVANTAGES
• Ready to use - Airless spray system.
• Adhesion greater than 0.7 Mpa.
• Water vapour permeability test: V = 140 g / m² – 24 hours.
• Sd measurement = 0.15 m.
• Fire classification A2-S1.
MATERIAL
All spraying machines for paste.
COVERAGE
From 6 kg to 8 kg /m².
COVERING
All types of paints and coatings.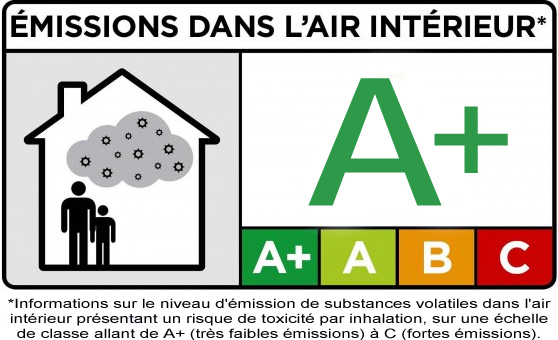 All holes should be filled before application.
Elastic cotton cloths
should be taped around joinery, angles and reveals to limit air gaps.
After drying, plasterboard should be mounted on wood or metal frames - not glued - as
stipulated by French DTU 25.41 standard.
Stop'Air is spray-applied using any type of praying machines for paste.
Use a 641 nozzle and larger, depending on the equipment used.
Spray at around 60 cm from the surface.
Do not use a filter.
We advise to use protective eyewear when spraying to prevent small particles getting into the eyes.
Coverage : from 6 kg to 8 kg /m²
Drying Time : 12 to 48 hours depending on the temperature, humidity and ventilation.